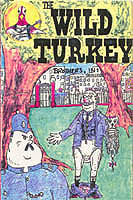 In:
The Wild Turkey Brothers, 1991
Twexlpod, Twexlpod01
Download for free!
Infamous Brighton Death-Blue-Metal-Grass merchants. The seminal first album. Recorded in a field in Ballsdean Bottom in Sussex, stood around a single mic... you may hear sheep in the background if you listen closely. Now rare, this recordings and its sister album Like This Only Better are all that remain of the semi-legendary Turkeys. Originally a bluegrass band, they toured in support of the Levellers, played innumerable festivals, inspired fanatical devotion in their supporters, and horrified the more inflexible elements of the British bluegrass scene.
Personnel
Tab:Guitar,Vocals
Matt:Banjo,harmonica,guitar
Marcus:drums, cowbell
Edmund:Mandolin,vocals
Danny:bass,vocals
Ben:fiddle,vocals
Track listing
Over The Waterfall
How Mountain Goats Can Love
Grumpy Old Man
Temperance Reel / June Apple
Old Joe Clark / Cripple Creek
Bugle Call Rag
Hogeye
Red Haired Boy
The Poodle Song
Foggy Mountain Breakdown